Three Exciting Logistics Operations Jobs and the People Behind Them
Working in the operations department at Fuel is fast-paced, intense, high-pressured, team-oriented and highly rewarding. Learn about the people who get the job done.
Get to Know a Logistics Coordinator: Brandon Spakowski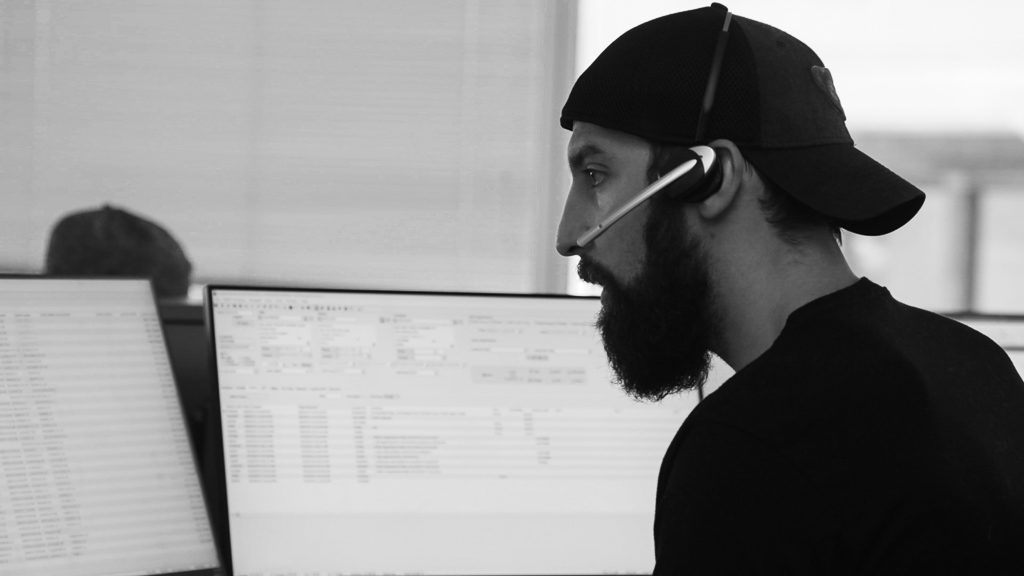 A U.S. Armed Forces veteran, Spakowski was drawn to his position as a Logistics Coordinator in Fuel's Chicago office by the speed and intensity of the work. "In the military, due to the security and sensitive nature [of what we transported], we only did two to three loads a month," says Spakowski. "Here at Fuel, we do 30 to 40 a day." Fuel was a natural next step forward from his logistics background in the military, where he oversaw maintenance, inventory and transportation within a weaponry unit. "I love the fast-paced environment, communicating with multiple parties and getting everyone on the same page," says Spakowski.
Since joining Fuel six months ago, Spakowski has begun training to become a Hybrid Logistics Coordinator, the next step before becoming a Carrier Sales Manager. Carrier sales have become a passion for him. "I love negotiating and creating those relationships and making a good deal," says Spakowski. But he's happiest about relationships he's built in the Fuel office. "When you first start, they're there to support you," he says, "the culture at Fuel is one of the best I've been part of. It's such a team atmosphere."
Apply to become a Logistics Coordinator.
Apply to become a Hybrid Logistics Coordinator.
Get to Know a Logistics Account Specialist: Sean Hrivnak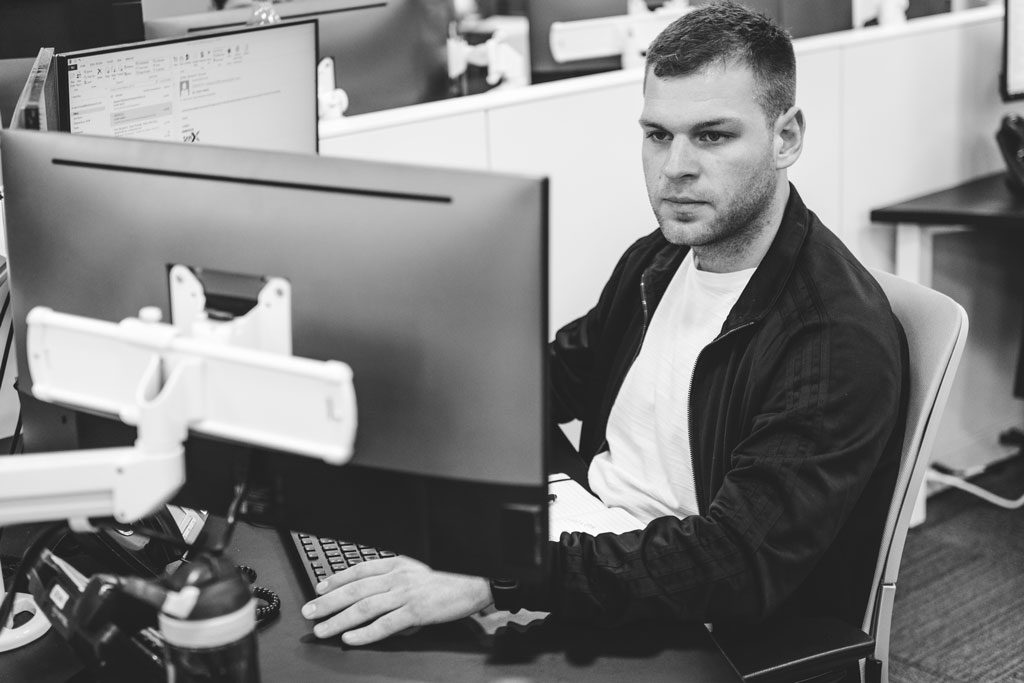 "Navigating through the chaos on the ice, that's what I do here in the job," says Logistics Account Specialist Sean Hrivnak. As a hockey player for Buffalo State College, he learned to thread a careful path to the net, at high speed and through constantly shifting obstacles—perfect training for booking freight. Hrivnak had no logistics background, starting the job straight from management school: "I came in here blind," he says, "The first month was all training."
Over his three years, Hrivnak worked his way from Coordinator to Hybrid roles in Fuel's Montreal office, before earning the title of Logistics Account Specialist. Hrivnak is at the epicentre of our operations hub. "I have three screens, two phones, my cell phone, sometimes they're all ringing at once," he says. "The days fly by—that's what I love." Hrivnak even loves the grind on its more challenging days: "It's not always sunshine and rainbows [but] we work as a team."
Apply to become a Logistic Account Specialist
Get to Know a National Account Manager: Gina Sapienza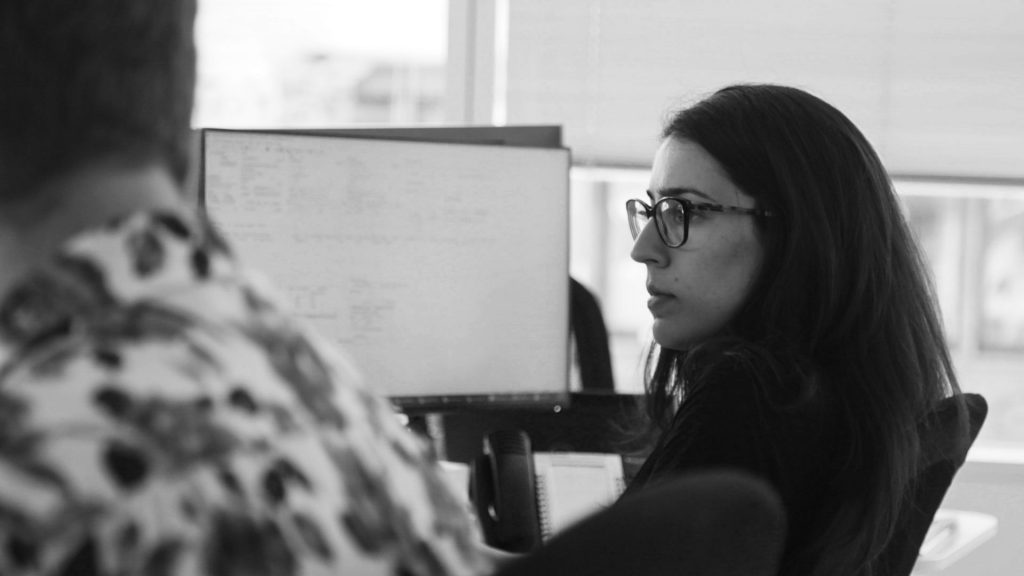 "I love talking to people and building relationships," says Gina Sapienza. She's been in logistics for four years and joined the team as a National Account Manager in our Chicago branch in December 2018. Sapienza's position is about building and preserving connections—maintaining strong relationships, while liaising with carriers and clients for new possibilities. "I saw a lot of growth opportunity here. Every day is something new, and it's been a good challenge," says Sapienza, who began her career in logistics in day-to-day operations, load building and scheduling.
Sapienza also appreciates Fuel's rejection of the boys' club attitude, which can still be a part of some corners of the logistics industry. She credits the leadership team for walking the walk and always providing support. "I wanted to surround myself with people who cared," Sapienza says. "A lot of places [in logistics] hire people to burn out; I wanted to work somewhere more interested in helping me shape my career."
Find your Fuel. Explore careers.