Warehousing: A Well-Orchestrated Operation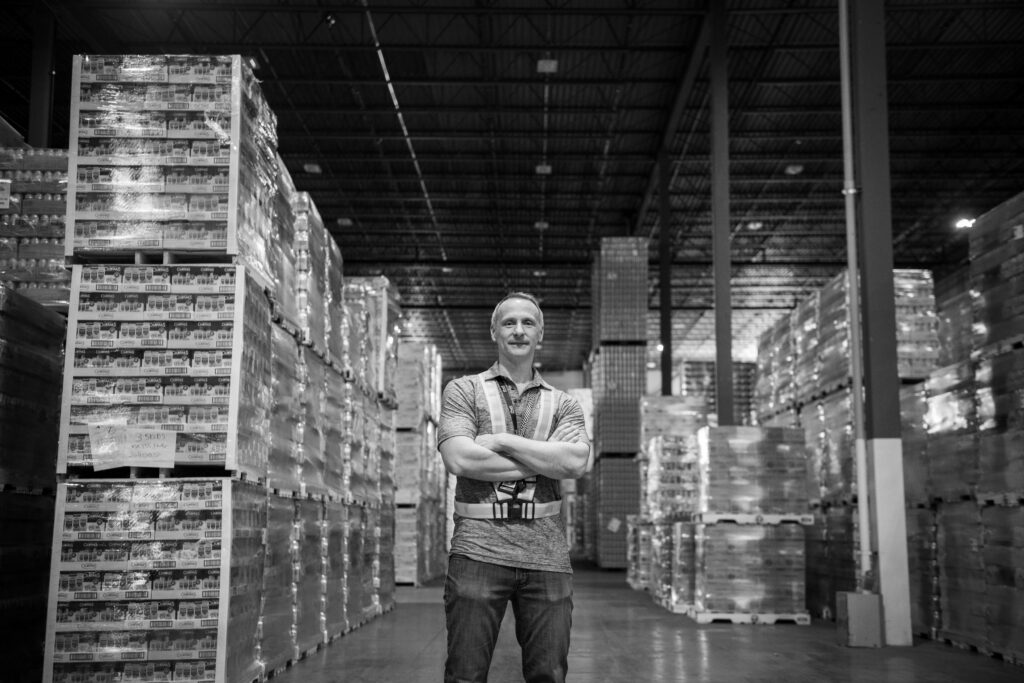 Fuel Transport operates over 1,000,000 sq.ft of warehousing space across North America, with each of our warehouses able to accommodate custom layouts and structures, no matter how unconventional. It's a well-orchestrated operation that allows for optimal flexibility and visibility. With the wide range of aspects to oversee and manage, it takes a certain type of person to keep it all humming along smoothly. That's where Tom Koufogianis, our warehousing director, comes in.
A lot of roles under one roof
"It's one thing to manage a warehouse of your own goods, where you can acquire the exact equipment needed, and plan for growth with some degree of predictability," says Tom, "but when you operate a warehouse in third party logistics (3PL), it's a whole different ball game; one that requires a lot of flexibility. In 3PL, your clients can change every few months, or every few years, and their needs vary, from paper to liquids to perishable goods."
Processes are continuously changing, and so for our warehousing director and our operations as a whole, an essential asset to ensuring sustained performance is a flexible system that can accommodate constant change, while simultaneously understanding the type of equipment needed in each case, interacting with clients and ensuring you're providing accurate data and forecasting progress and delivery times. The job involves a lot of performance metrics, managing service requests, budgets, and establishing standard operating processes; all the while assuring everyone is cross-trained and passing on knowledge to the next generation of employees.
One crucial asset
As someone who was first introduced to the warehousing world during university, and went on to work at many companies around the world, setting up distribution centres in Memphis, Germany, and Singapore, Tom understands the importance of the human factor in achieving this operational harmony. What his experience has taught him is that the best way to manage the challenges of warehousing is with a team of talented people, capitalizing on the unique experience each individual brings to the table.
"There's a misguided reliance on a warehousing system to solve all problems, but the system is only as good as the people you train. Your team's commitment to learning, their ability to collaborate and challenge each other, to speak up when necessary are all crucial in optimizing operations."
Striking a balance together
With so many moving parts to manage, a warehousing director needs to lead a team of people who are sharp and engaged, tightly collaborating with operations and tech, while also interacting with other departments like finance and HR. That, along with executing on the company's vision for its management system to best maximize on and support our business' infrastructure in an industry where the only predictable aspect of the job is change. In order for these constantly-evolving variables and operations to be optimized, we need our technology systems and people to be optimized too.
"When you're aligned with yourself, your work and your goals, you strike a balance between all of it, and that can be really powerful for growth," says Tom. And as the conductor of this symphony-like operation, seeing everything and everyone successfully come together is rewarding.
"When they've had a good day, I've had a good day."
Tuning up for what's to come
Not only are the realities of a warehousing director always changing, but the industry itself is changing too. The pandemic taught us so much about what it means to be ready for anything.
When it comes to planning routes and developing processes, the ability to be flexible and to scale to adjust to fluctuating needs is vital. Over the next decade we'll surely see more automation in certain areas of the job, while human connection, collaboration and innovative thinking will still be crucial to accommodate needs and advance processes. Our ability to plan flexibly and harmoniously will continue to evolve, to reduce risk and keep things moving in an unpredictable world.
Discover our latest warehousing acquisition and new flagship warehouse, 35 Precidio Court.